"Divided Time" Blu-Ray/DVD Combo
$

15.00 On Sale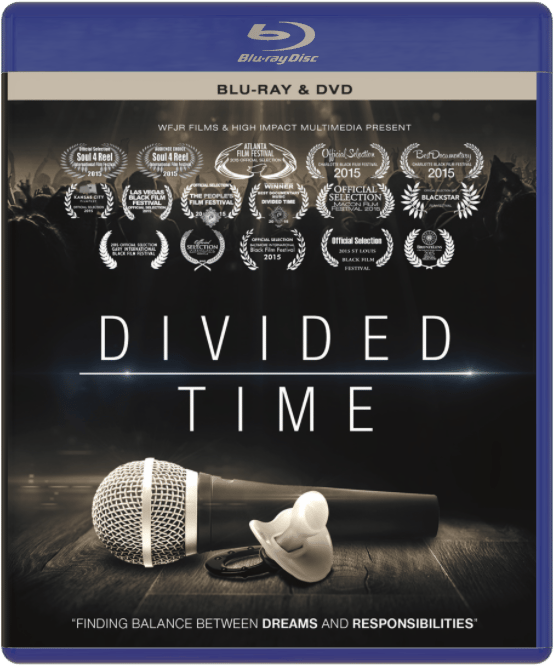 The "Divided Time" Blu-Ray/DVD Combo includes custom menus, live performance footage, a photo slideshow, exclusive music videos and other short documentaries, "Heaven Can Wait" and "Change In The Game."
"Divided Time" synopsis:
The responsibility of parenthood has caused many people to delay or abandon the pursuit of their dreams. "Divided Time" examines the impact of fatherhood on several aspiring independent hip-hop artists. It's an inspiring behind-the-scenes look that counters the negative imagery often associated with hip-hop in mainstream media.
The film features: Derrick "Abyss," Jermaine "Arablak," Daryl "Damaja D," Ekundayo, Charles "Jawz of Life," Masud "Mikeflo," Jerrell "Snub Zero," Alexander "Stanza" and Kam "Supastition."
"Divided Time" premiered on October 8, 2014 at the A3C Hip-Hop Festival and went on to be screened at 15 Film Festivals in 13 different cities this year.
The film has won several awards in the process:
2015 Soul 4 Reel Film Festival - "Audience Choice"
2015 Charlotte Black Film Festival - "Best Documentary"
2015 The People's Film Festival - "Best Music Documentary"
2015 International Black Film Festival of Nashville - "Best Documentary"
2015 Gary International Black Film Festival - "Best Documentary Short"
You can view the trailer here: https://vimeo.com/97682355
Follow Divided Time on Twitter & Instagram: @DividedTimeDoc
"Like" the Facebook page: http://www.facebook.com/DividedTimeDoc
Share